Ashkenazi flavors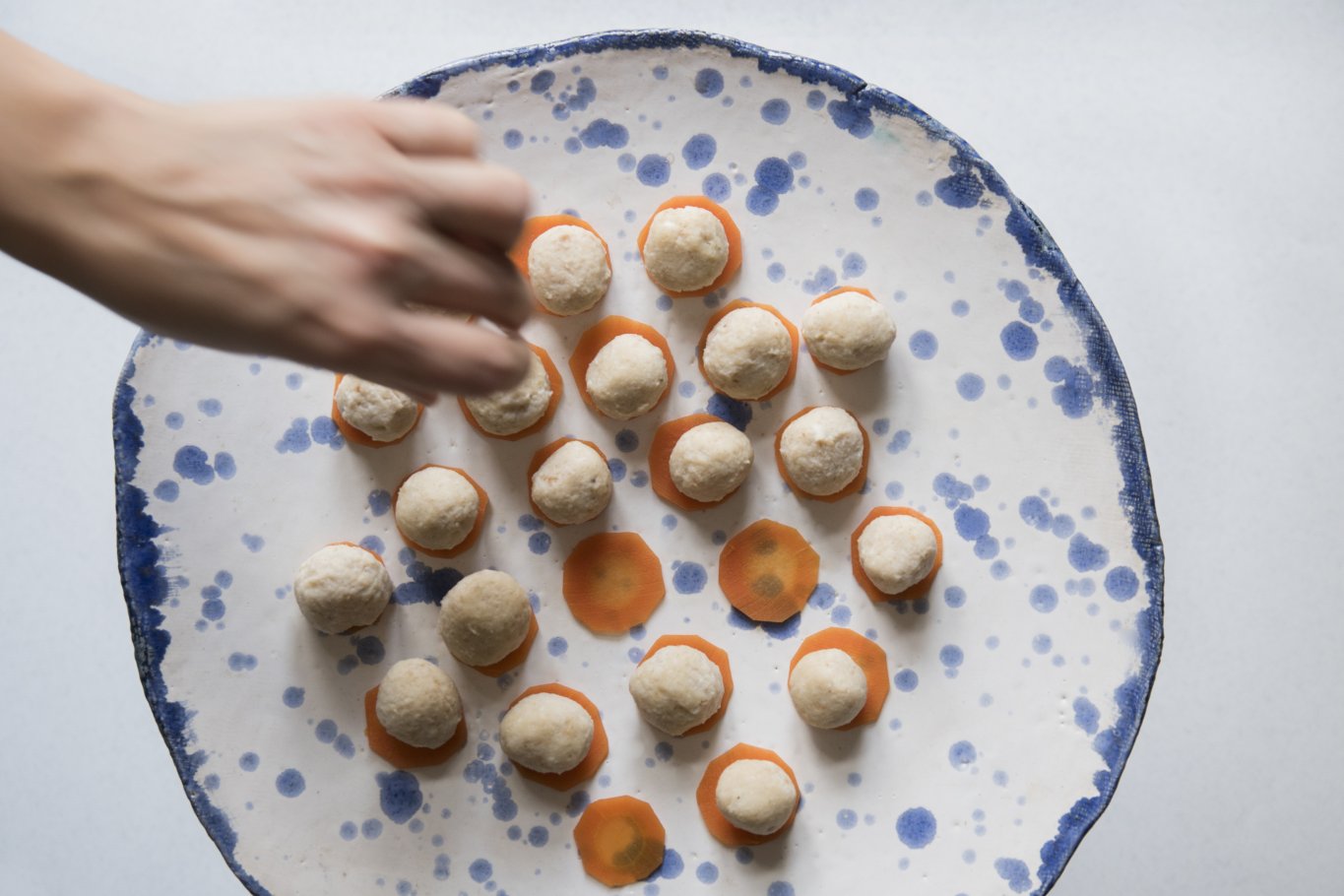 Gefilte fish
Stuffed fish has always been and still is the most popular Ashkenazi cold appetizer which is consumed at the beginning of Shabbat. In the past, the fish skin was filled with stuffing to avoid having to separate the bones from meat on Sabbath (because it would be forbidden to do so). Traditionally, carp or pike was served in this manner, seasoned sweetly in Poland. Today, gefilte fish is often served in a simpler fashion: fishballs made of fish stuffing, served in gelatine.

Schmaltz
It was the basic fat of Ashkenazi cuisine. Since Jews did not eat pork, lard was derived from geese, or less often from chickens. Very often skin cracklings, the so-called gribenes, were produced by cooking skin in schmaltz.

Herring
In Eastern Europe, herring was the most inexpensive fish which was often used in Ashkenazi cuisine, both every day and on Shabbat, usually pickled or chopped (Yiddish, "gehakte herring"). Jews also engaged in the herring trade.

Photo: POLIN Museum of the History of Polish Jews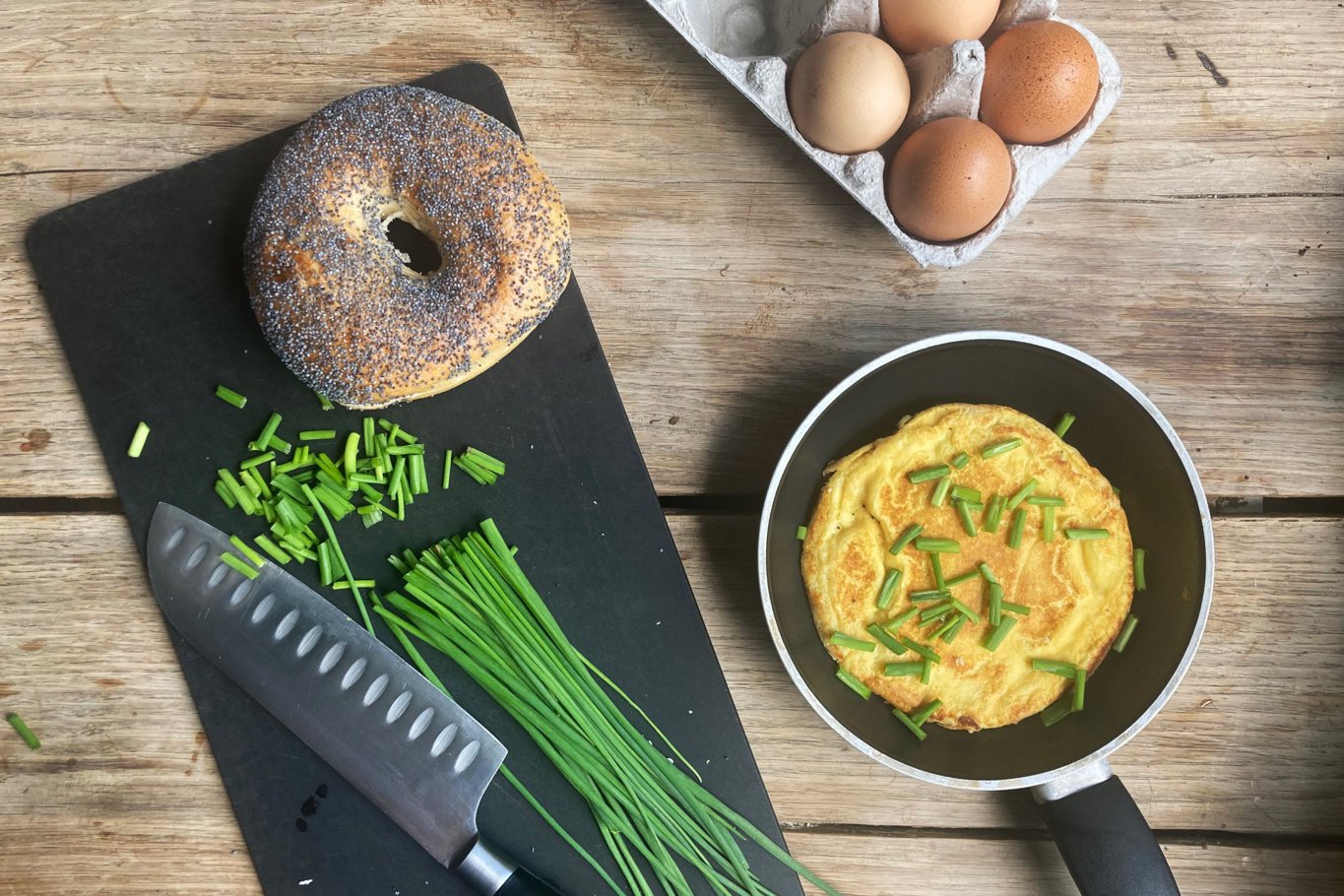 Cholent
A thick dish made of meat, beans, potatoes, barley groats and vegetables, cooked on the stove top with lots of fat. It was prepared on Fridays before Shabbat and kept overnight in a warm place — often in a stove, or in some places and times, at the local bakery.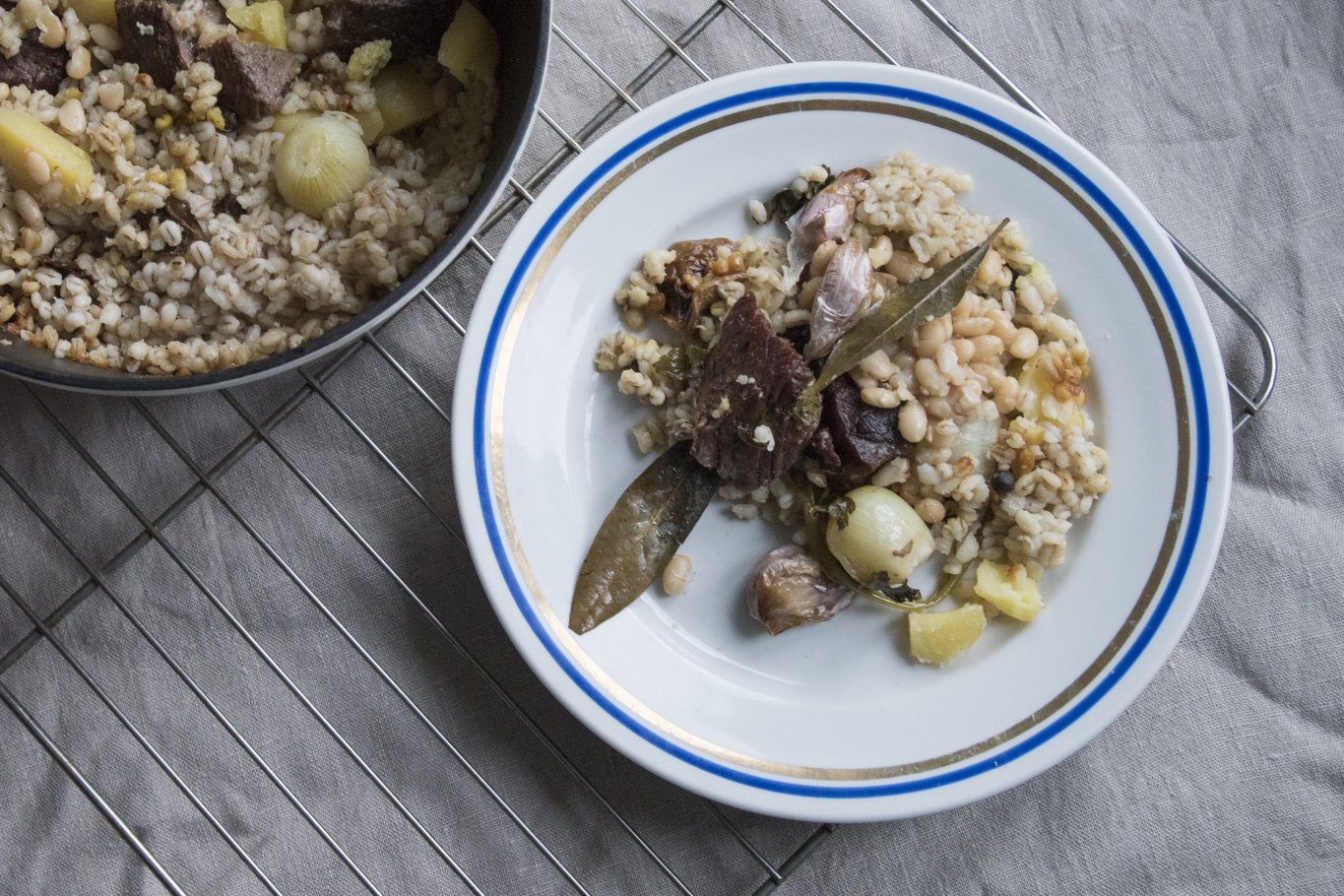 The great source of Jewish cuisine
Michael Wex, Canadian author of books on Yiddish language, literature, and culinary culture, talks about the origins of traditional Jewish food, the unique combination of religious requirements with local geography and customs.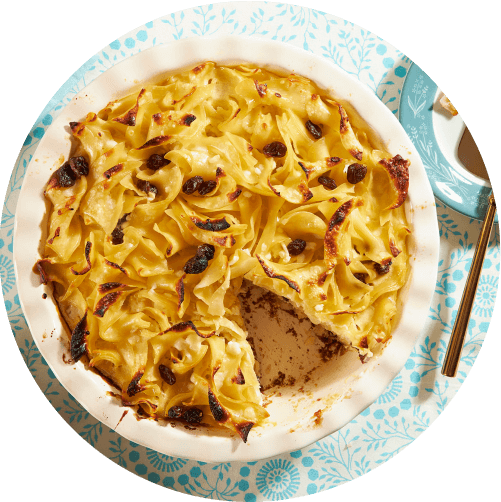 Kugel
A traditional casserole made of pasta or potatoes to be eaten on Shabbat. The name "kugel" (Ger.: "sphere") comes from the shape of a small pot which in the Middle Ages was placed in the large pot with the cholent to heat it up and keep it warm. Initially, the leftover dough from challah baking was placed in it; with time, it was replaced by pasta (Yid. "lokshn kugel"), and next by potatoes, which found their way to Europe in the 16th century. While in Poland kugel was often seasoned sweet, in Lithuania a very peppery version was popular.

Photo: POLIN Museum of the History of Polish Jews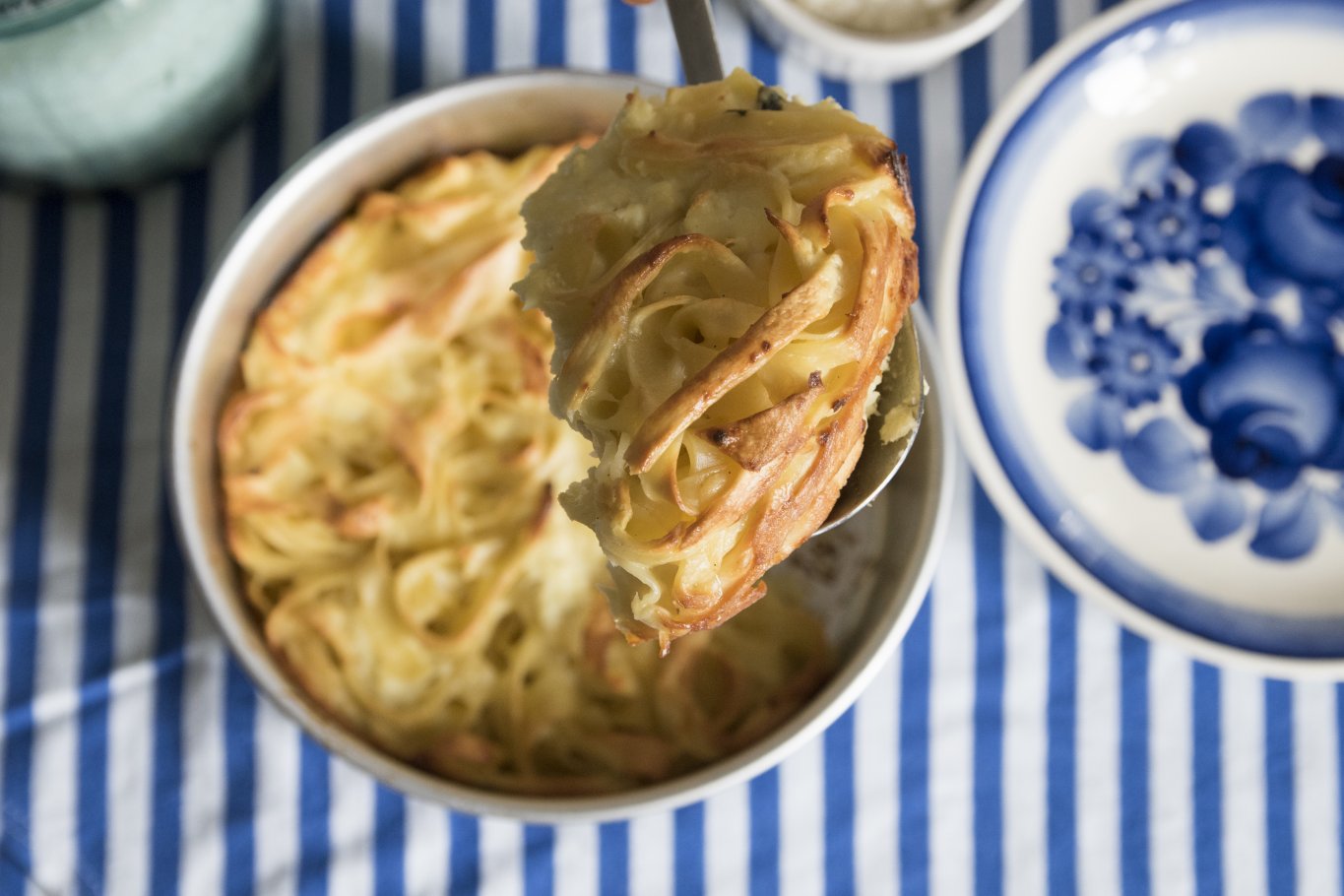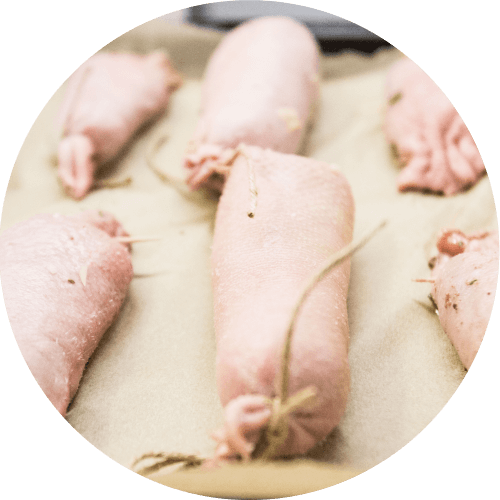 Helzel (stuffed goose neck)
Sometimes a stuffed goose neck was thrown into the warm cholent pot. Similar to kugel, with time it became a dish in its own right and was served separately. In Galicia, stuffed goose neck was replaced by stewed goose gizzards.

Photo: POLIN Museum of the History of Polish Jews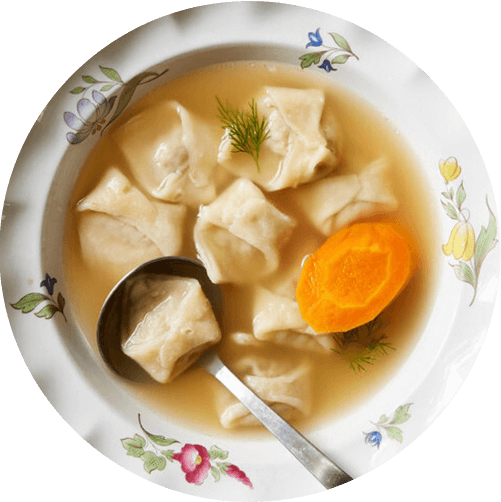 Chicken soup
Aside from borscht, one of the key soups in the Jewish cuisine. Most often served with matzo balls or with kreplach (meat-stuffed dumplings). Since the Middle Ages, Jews consumed a lot of poultry as back then it did not require a licensed shochet—anybody could perform the slaughter. Poultry farming was also a traditional Jewish profession in Germany and Eastern Europe.

Photo: POLIN Museum of the History of Polish Jews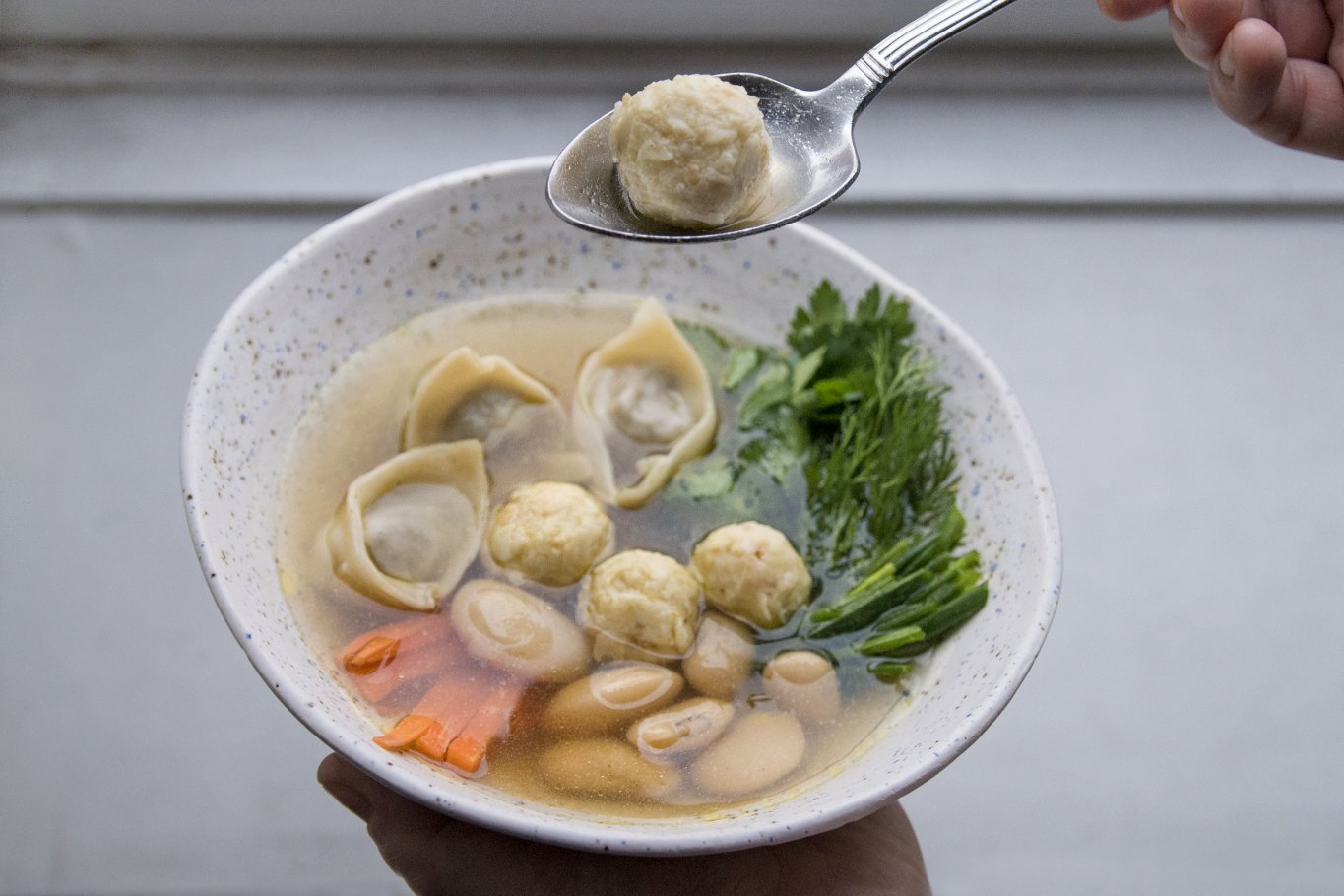 VEGETABLE BROTH (the best WITH KNEIDLACH AND KREPLACH)
Cook it!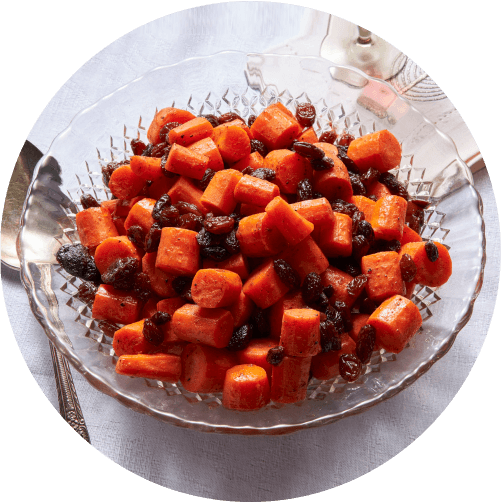 Tzimmes
Sweet dish made of sliced carrots with apples, honey and raisins. It was so popular that the name entered Polish language to signify something especially tasty: "What a tzimmes!"
Photo: POLIN Museum of the History of Polish Jews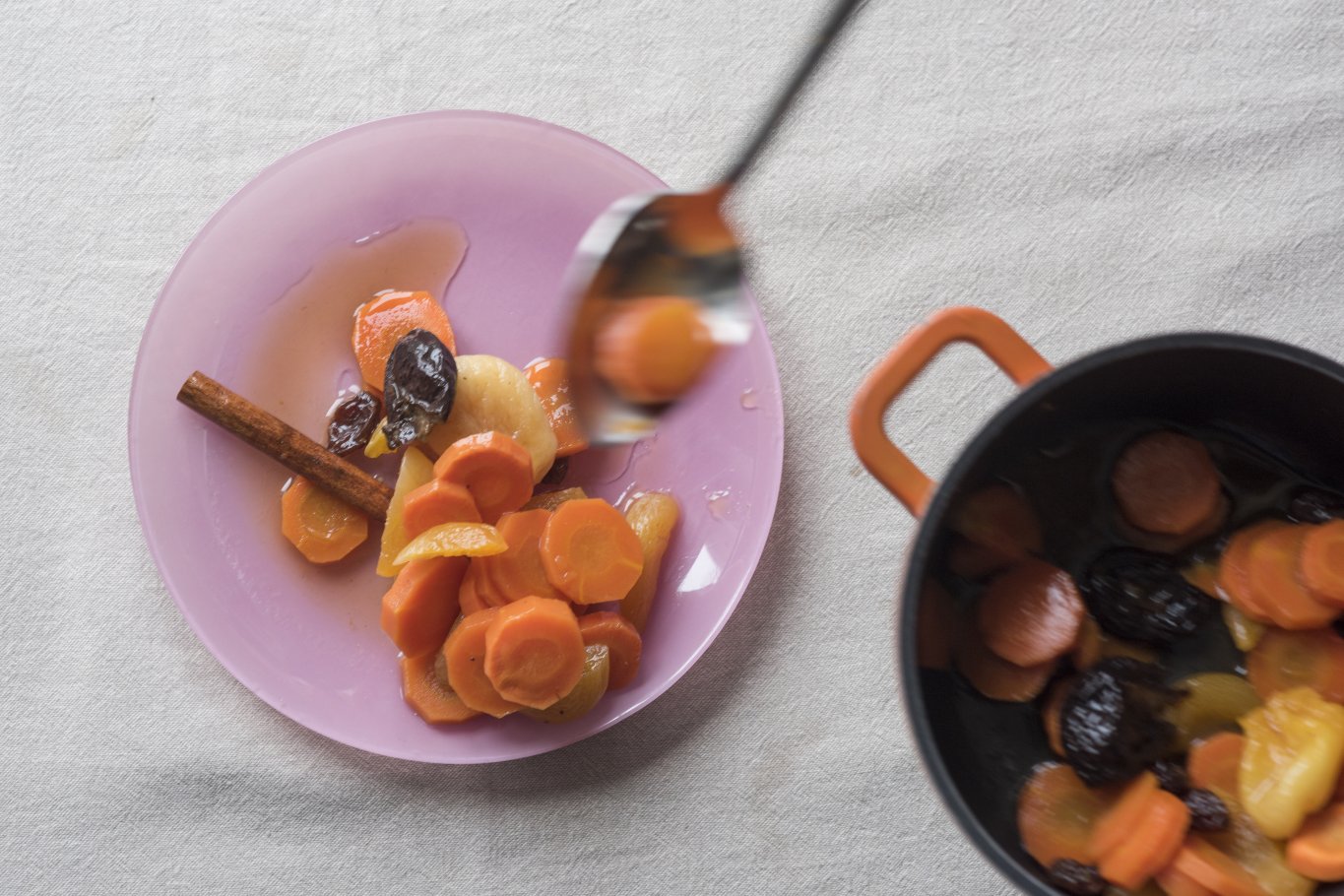 Holishkes
Cabbage leaves stuffed with meat and rice; in Hungary, peppers were stuffed instead of cabbage.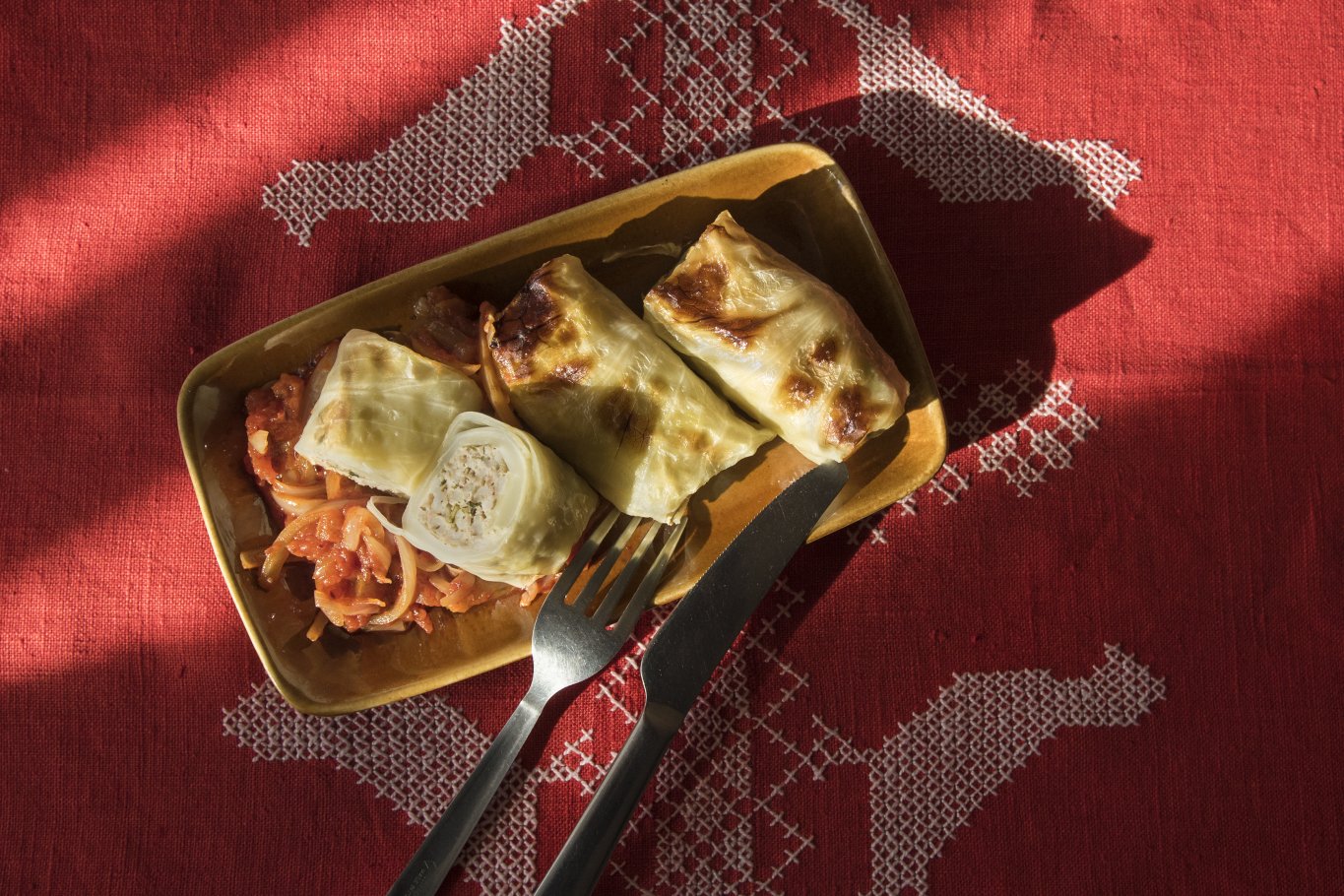 Bagel
A ring-shaped bread product, first boiled, then baked. The first mention of it comes from Krakow from the beginning of the 17th century. While challah was a holiday bread, bagels (Ger., "curve") were consumed on a daily basis. Ashkenazi Jews often dealt in the flour trade or worked as bakers.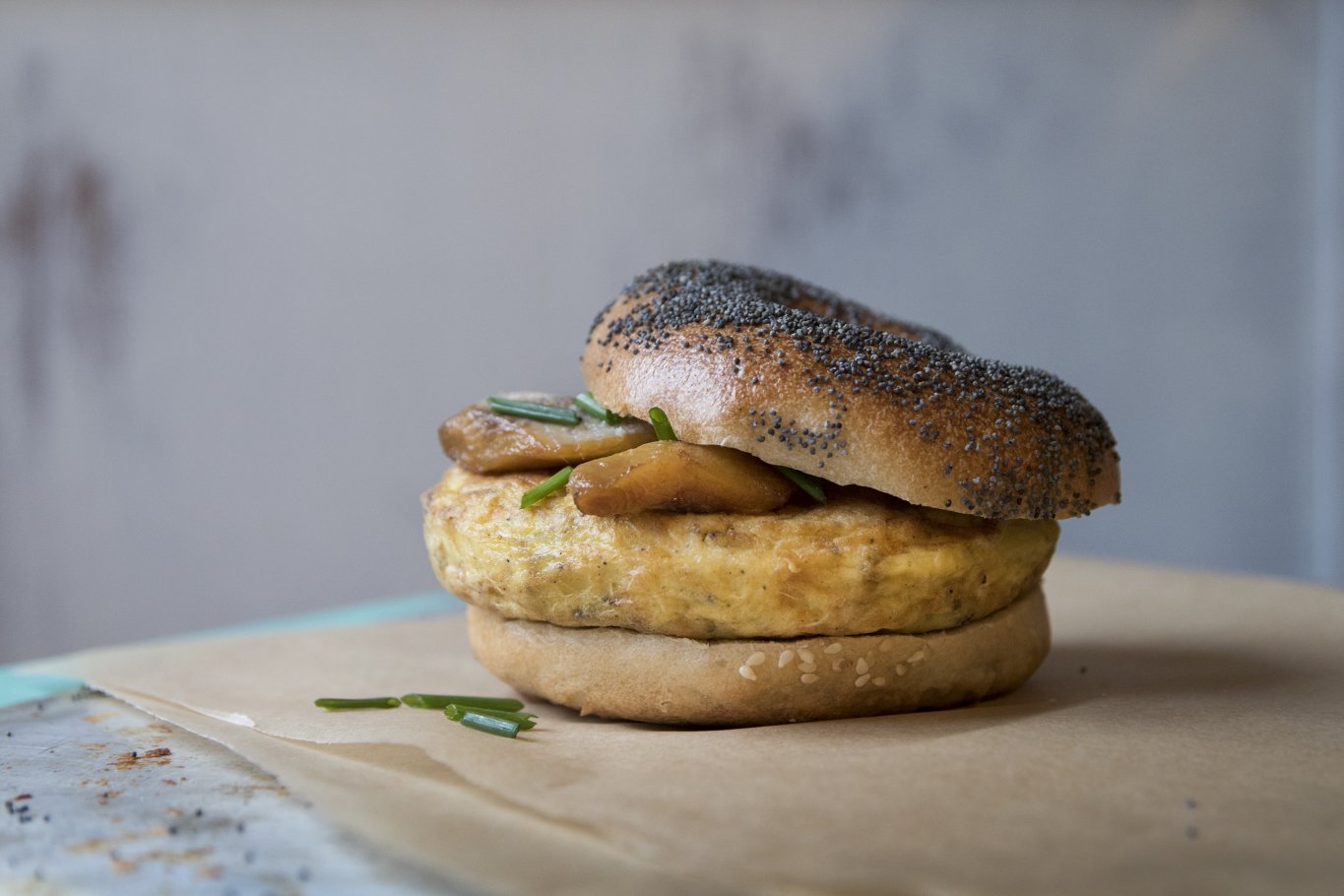 Chopped liver
Liver was a delicacy of Ashkenazi cuisine in the Middle Ages, although it required special processing (removing all the blood). In Poland, Lithuania and Ukraine chopped liver (Yid. "gehakte leber") with onion and hard boiled eggs was popular. Chopped liver was a regular part of Shabbat and Pesach menus.

Bialystoker kuchen
This round, small bread with a hole in the middle, filled with chopped onion, takes its name from the city of Bialystok, where it was created in the early 19th century. After World War II, bialystoker kuchen (Yid., "kuchen - dough") were almost completely forgotten in Poland, but survived thanks to Jewish immigrants in New York, where they are known by a shortened name "bialys".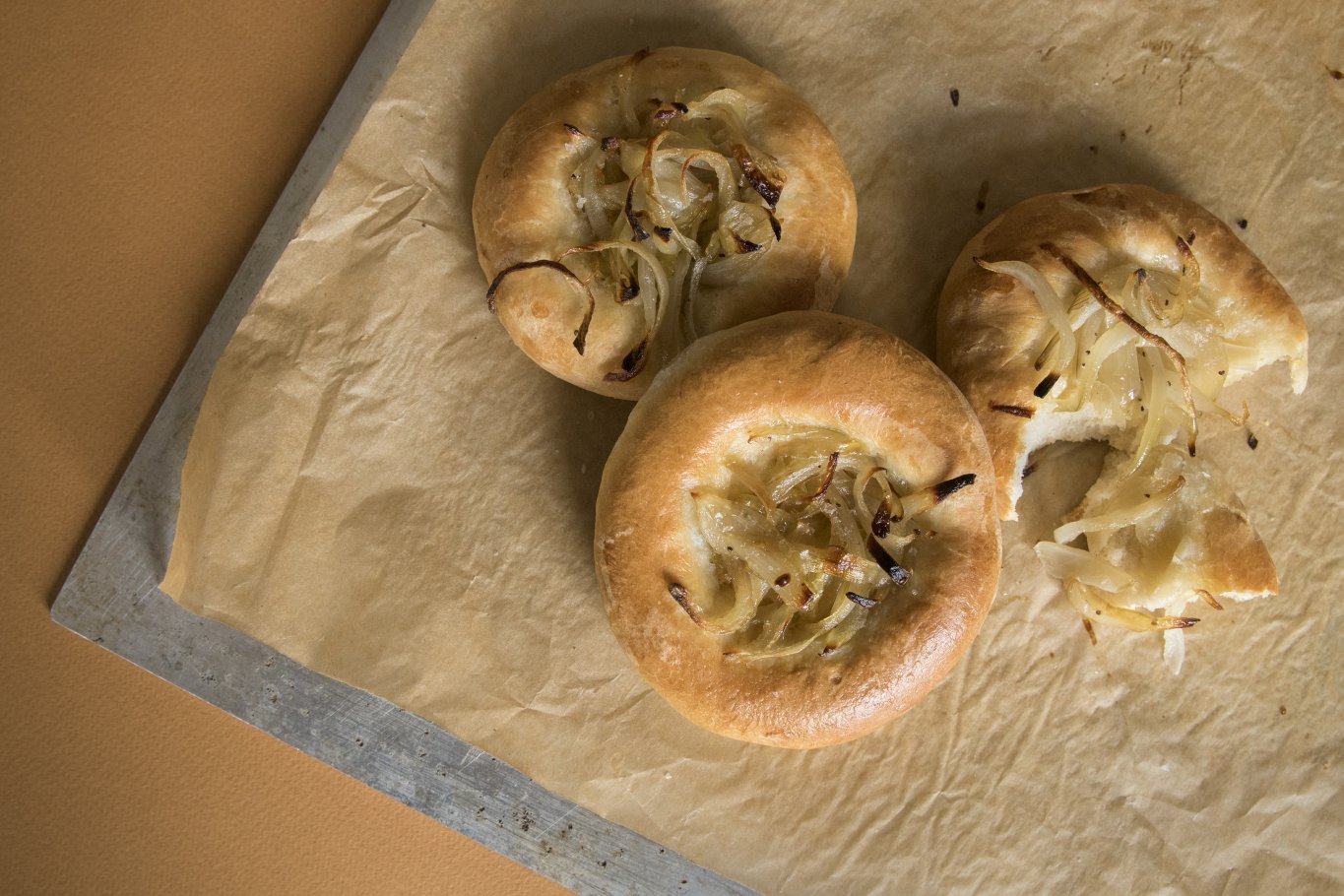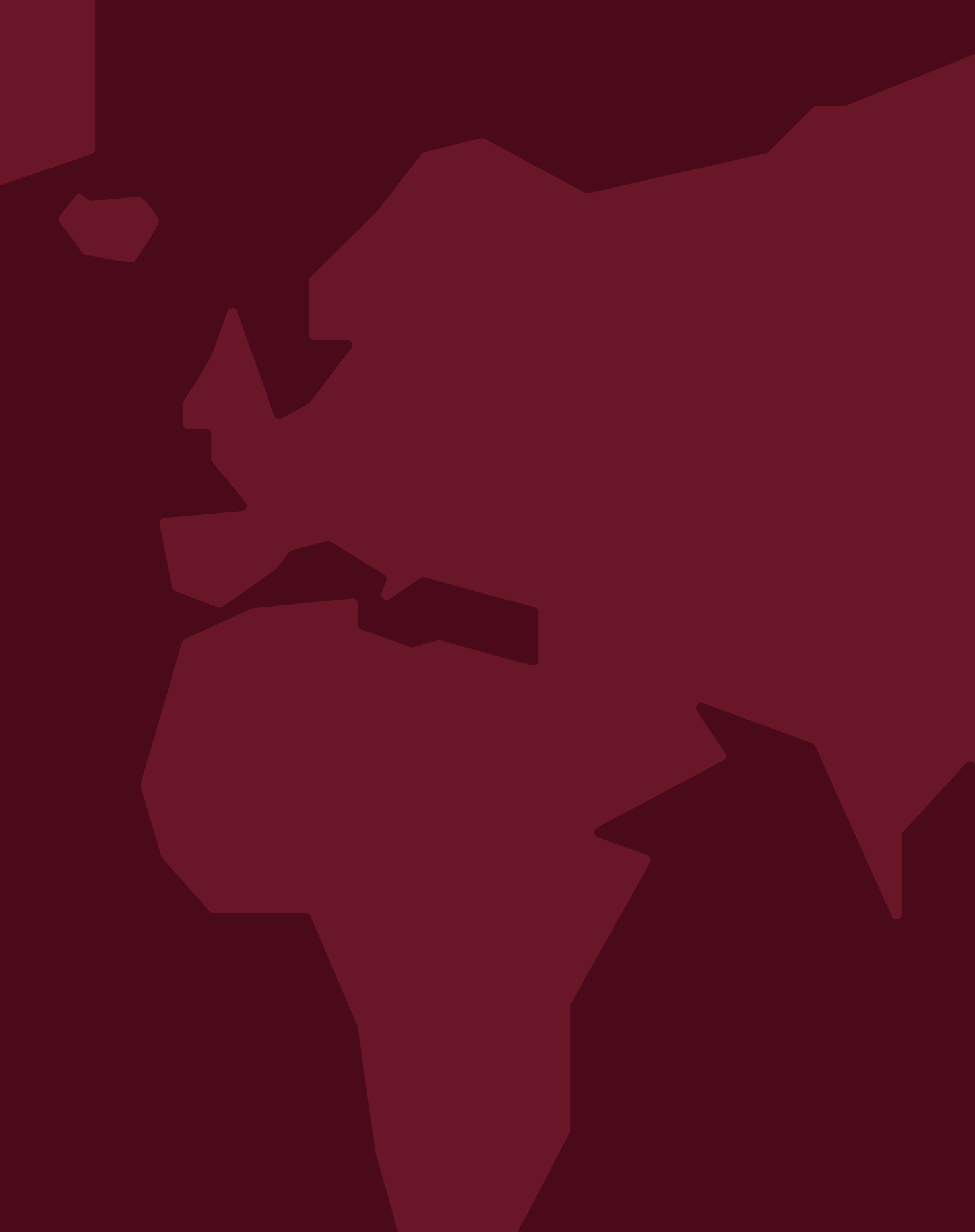 See more
Diaspora
Sephardi and Mizrachi cuisine
SCROLL or CLICK&HOLD
to go on