KASHRUT: PAST AND PRESENT
Kosher observance practices date back to ancient times, when the Torah and other biblical books were written, and continue today, despite changing historical realities and new interpretations of these principles. For religious Jews, they are a way of fulfilling divine commandments, while for non-practicing Jews they often serve as a point of reference for tradition and a source of identity.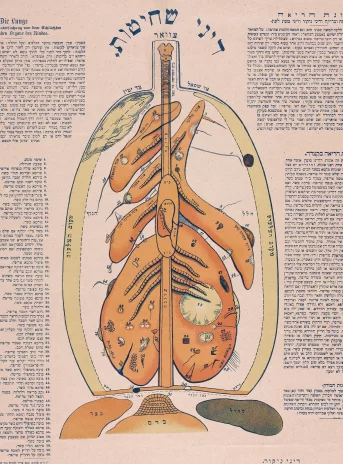 Joseph Schlesinger, "Dinei Shechitot"
A card with the listed rules of shechitah. In all likelihood, it once hung on a slaughterhouse wall. Vienna, c. 1875.
Gross Family Collection, Tel Aviv
See related objects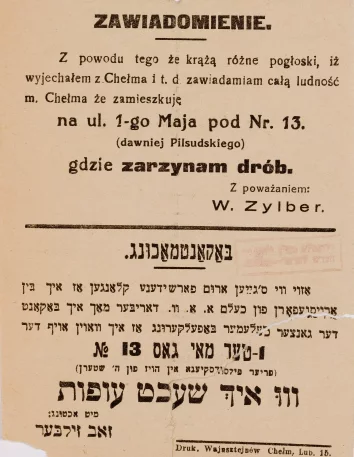 Announcement of a kosher slaughterer
Chełm, Poland, 1919-1939.
YIVO Institute for Jewish Research, New York
See related objects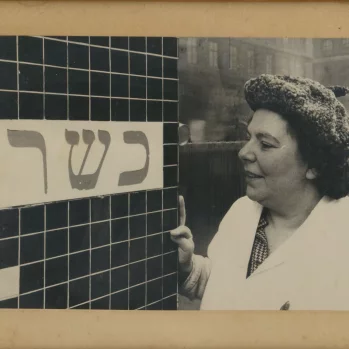 Arne Cohn's kosher deli in Copenhagen
Fanny Cohn inside of the shop, 1958
Danish Jewish Museum, Copenhagen
See related objects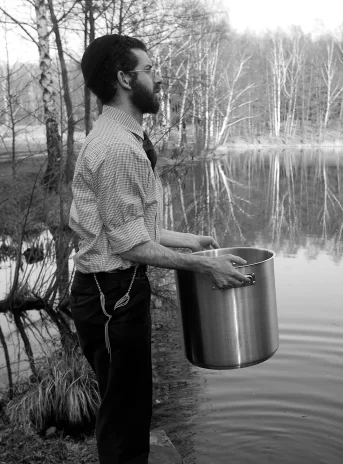 The tavilat kelim ceremony (washing of pots).
This is how pots purchased from non-Jews are washed. Rabbi Yehoshua Ellis in the photo. The vicinity of Katowice, 2012, photo by Arkadiusz Ławrywianiec.
Private collection
See related objects
View 3D
Kosher certificates
Today, in the era of globalization and industrial food production, each product consumed by observant Jews must have a kosher certificate granted by an authorized rabbi. It confirms that the food has indeed been produced in line with all the rules of kashrut. In order to obtain such a certificate, the entire production process must be examined, and all the chemical ingredients used in this process must be analyzed.

The marks used on kosher-certified products
These marks can take different forms, depending on the country and organization that issued them. The most common international mark contains the superimposed letters O and U.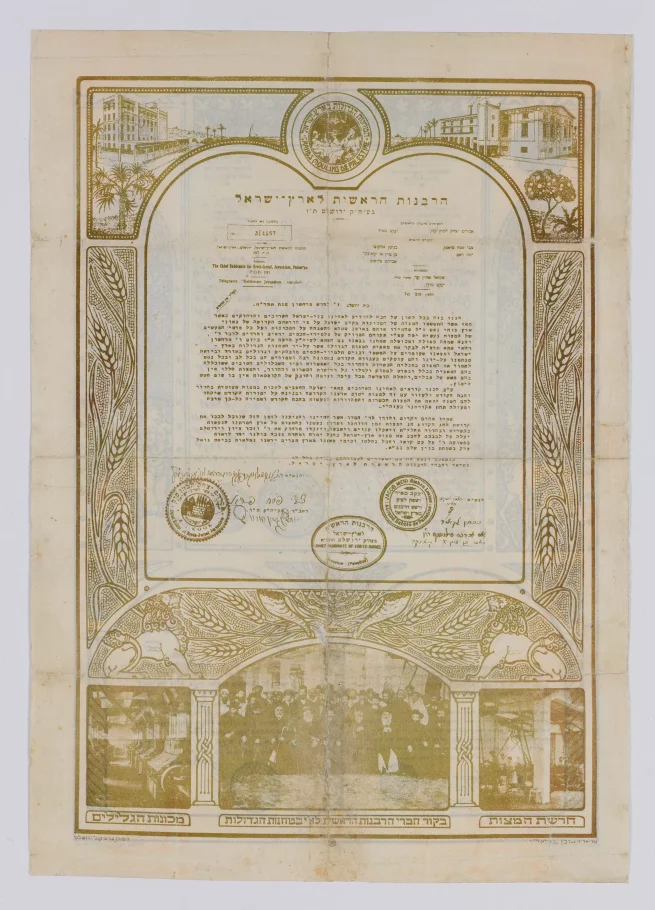 Kosher certificate of mass-produced matzo
Jerusalem, 1928.
Gross Family Collection, Tel Aviv
See related objects
Products from various suppliers, USA, second half of the 20th c.
YIVO Institute for Jewish Research, New York
In pursuit of change
Nowadays, kosher food producers offer innovative products, striving to keep up with changing dietary trends, such as vegetarianism, veganism, ecological concerns, interest in cuisines from all corners of the world. Sometimes, following technological novelties in the culinary field raises various issues, e.g.: should meat produced in a lab be treated as meat, or as neutral, i.e. parve? Products imitating forbidden foods, e.g. kosher prawns, also stir much controversy.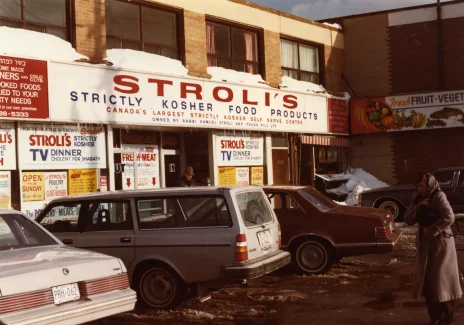 Stroli's – kosher store in Toronto
Canada,1980s.
ANU – Museum of the Jewish People, Tel Awiw
See related objects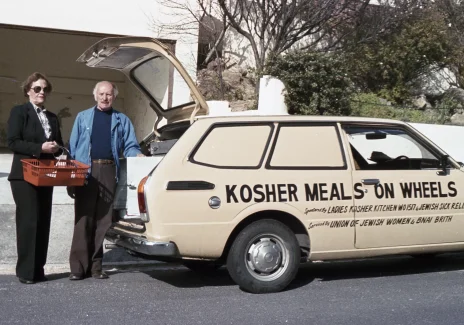 Kosher Meals on Wheels – sale and home delivery of kosher meals in Cape Town
South Africa, 1982.
ANU – Museum of the Jewish People, Tel Awiw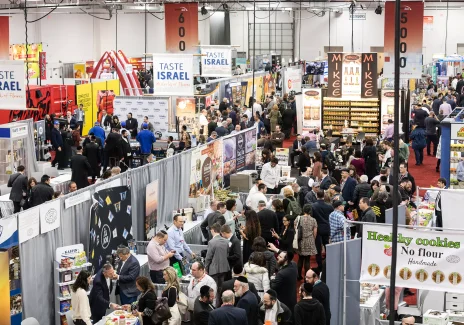 Kosherfest
A large kosher-certified products trade show. New York, 2019.
Lubicom and Diversified Business Communications, New York
See related objects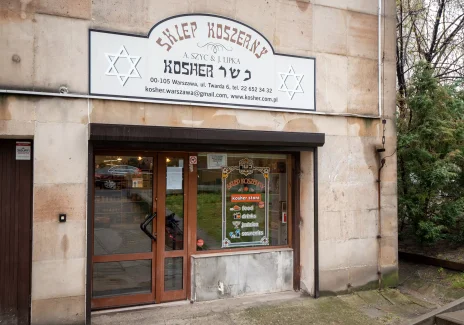 Kosher store in Warsaw
It is located next to the Jewish community office and the Nożyk Synagogue in Warsaw, 2021
Photo: Patryk Grochowalski
POLIN Museum of the History of Polish Jews
See related objects
Boker Tov
Agata Rakowiecka, director of the Jewish Community Center (JCC) in Warsaw, Maryla Musidłowska and Jakub Chojecki, who run the kosher kitchen there, talk about the idea of Sunday "Boker Tov" breakfasts at the JCC.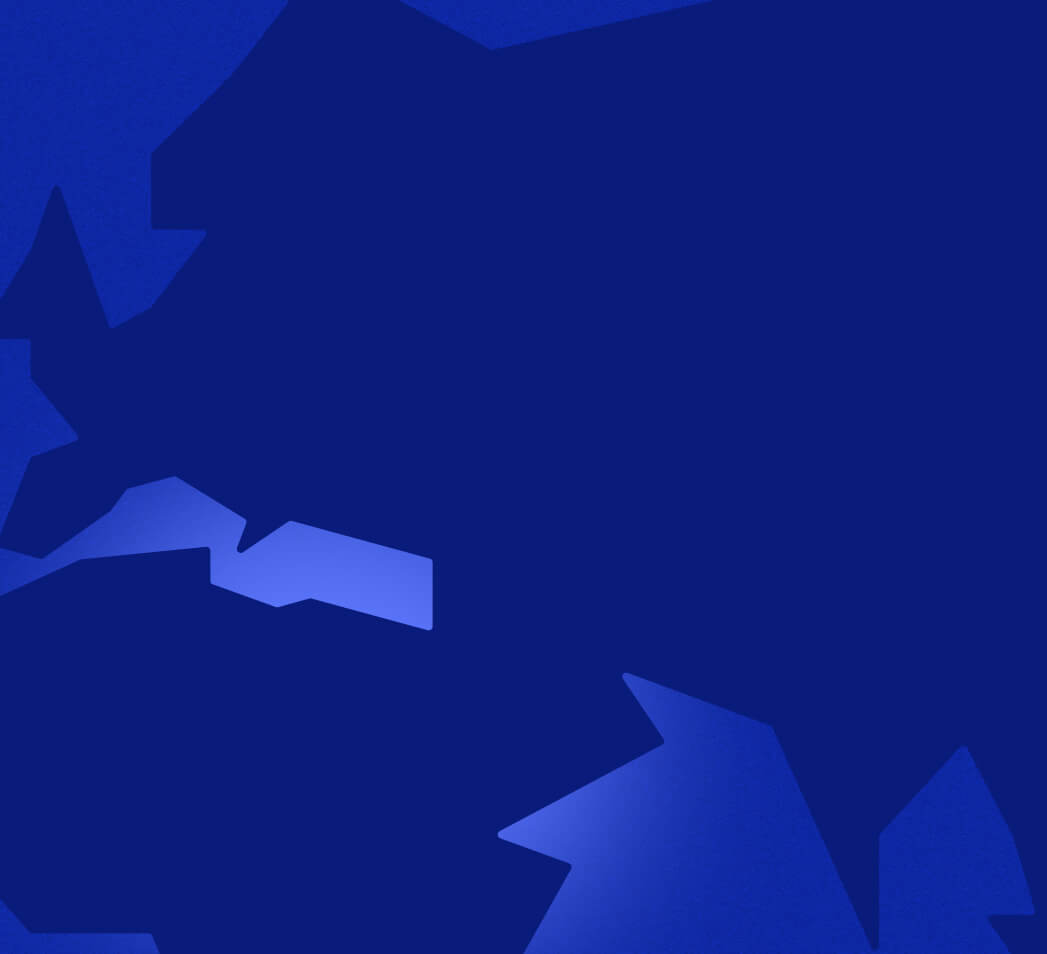 SCROLL or CLICK&HOLD
to go on