"MIGRATING" FLAVORS
From the late 19th century, the increasing number of Jews from East Central Europe emigrated to the West, mainly to the United States of America, hoping for more economic opportunities and better living conditions. The new immigrants centered community life in New York's Lower East Side and in London's East End. Eager to assimilate and achieve success in the new environment, they nonetheless continued to foster social ties within the Jewish community and observe the customs brought from the Old Country. Among these customs were culinary traditions which offered—especially in the unfamilar, difficult new reality—a sense of safety and a family atmosphere.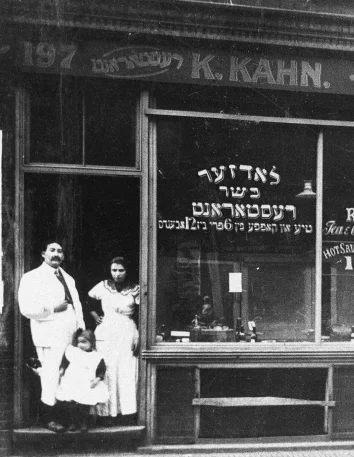 Lodzer Kosher Restaurant at Brick Lane in Whitechapel in London
The owner, Kever Kahn, a native of Łódź, is standing in the doorway with his wife Rosa and their child. First half of the 20th c.
Jewish Museum London
See related objects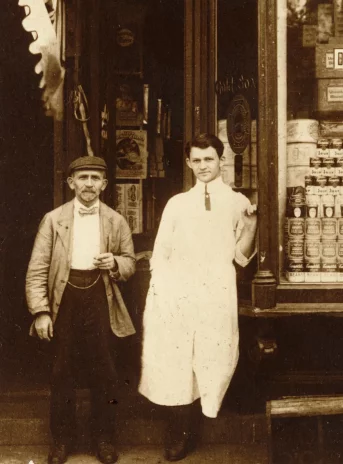 M. Bloom's Delicatessen
Bronx, New York, 1910.
YIVO Institute for Jewish Research, New York
View 3D
American story
Dishes typical of traditional Jewish cuisine grew extremely popular in the United States. Immigrants from Poland, Lithuania, Ukraine, Belarus and Romania brought the culinary customs of Ashkenazi Jews, thus popularizing products that originated in Eastern Europe: pickles, bagels, buckwheat groats, borscht, sour soup, knishes, latkes, pound cake, challah, round onion bread (bialys) and pastrami. Today these are staple dishes of American cuisine, available for purchase at any grocery store.
Lox and bagel
Lox and bagel grew to be a symbol of the Jewish cuisine in America. A bagel is a traditional Jewish bread product originating from Eastern Europe. Salmon, a pricy fish, was not popular among Ashkenazi Jews—the much cheaper herring used to rule their tables. Salmon entered Jewish cuisine in America at the turn of the 20th century. In the 1920s and 1930s it became widely available following the launch of Pacific fisheries. The name "lox" is an Americanized version of "laks" which is Yiddish for salmon. For Jews keeping the kosher diet, a bagel with smoked salmon and cream cheese became an ideal equivalent of an American breakfast of bacon, eggs and toast.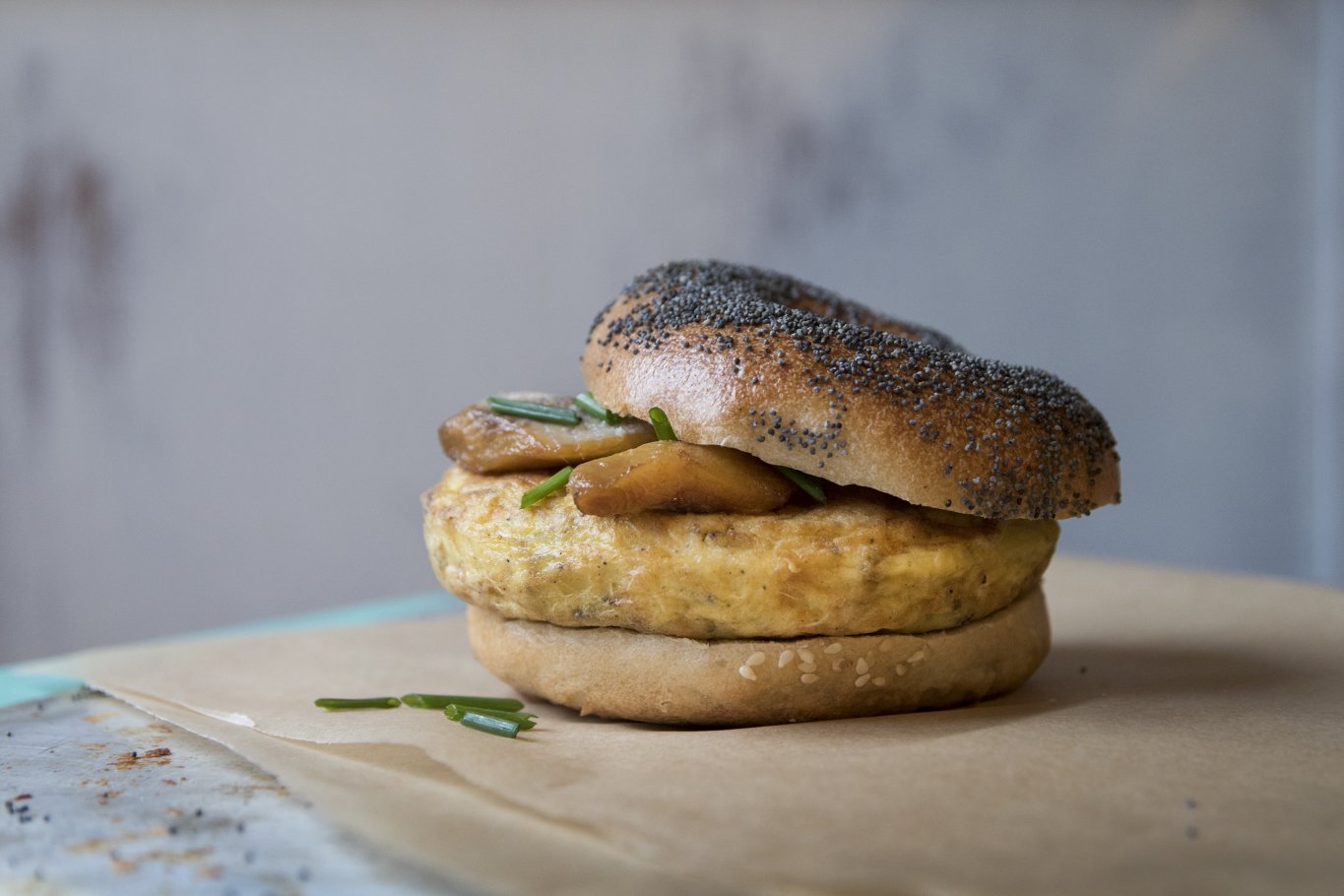 Kosher industry
In the early 20th-century United States, a kosher food industry flourished after a mass influx of Jewish immigrants. Supermarkets produced and sold not only basic products, but also traditional Jewish ready-made meals such as gefilte fish, borscht, mushroom soup or challah. Products for Pesach such as matzo, alcohol, drinks, sweets constituted a separate category. Companies published cookbooks as a way of advertising their own products. Many widely popular products such as Coca-Cola, Heinz ketchup or Oreo cookies earned kosher certification.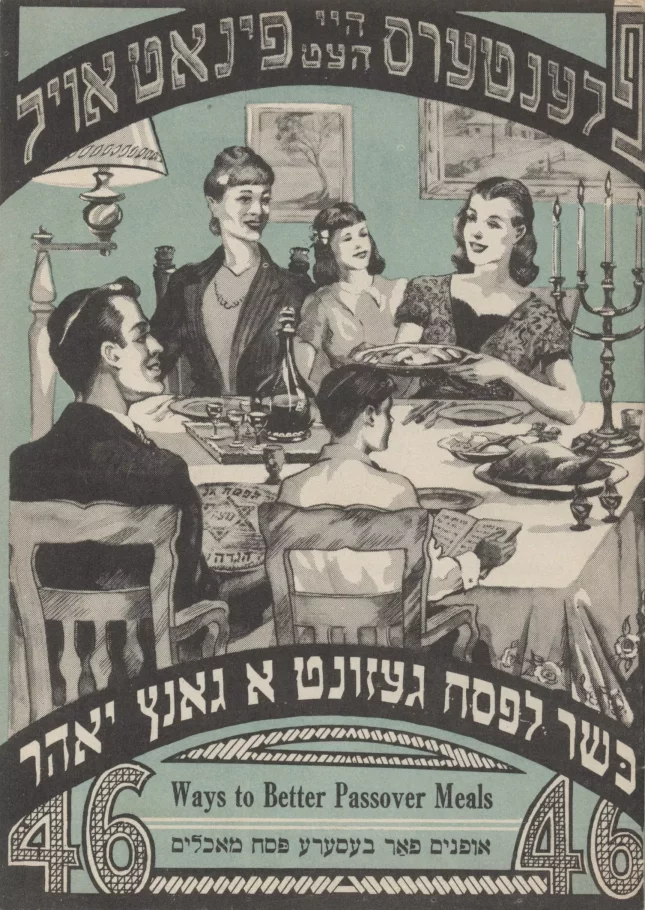 "46 oyfanim far besere Peysekh maykholim" (46 ways for better meals for Pesach)
Cookbook published by the Planters Edible Oil Company featured recipes for meals made with matzo, Suffolk, 1940s. In the US, many companies producing kosher food advertised their products by way of cookbooks containing recipes based on them.
Yiddish Book Center, New York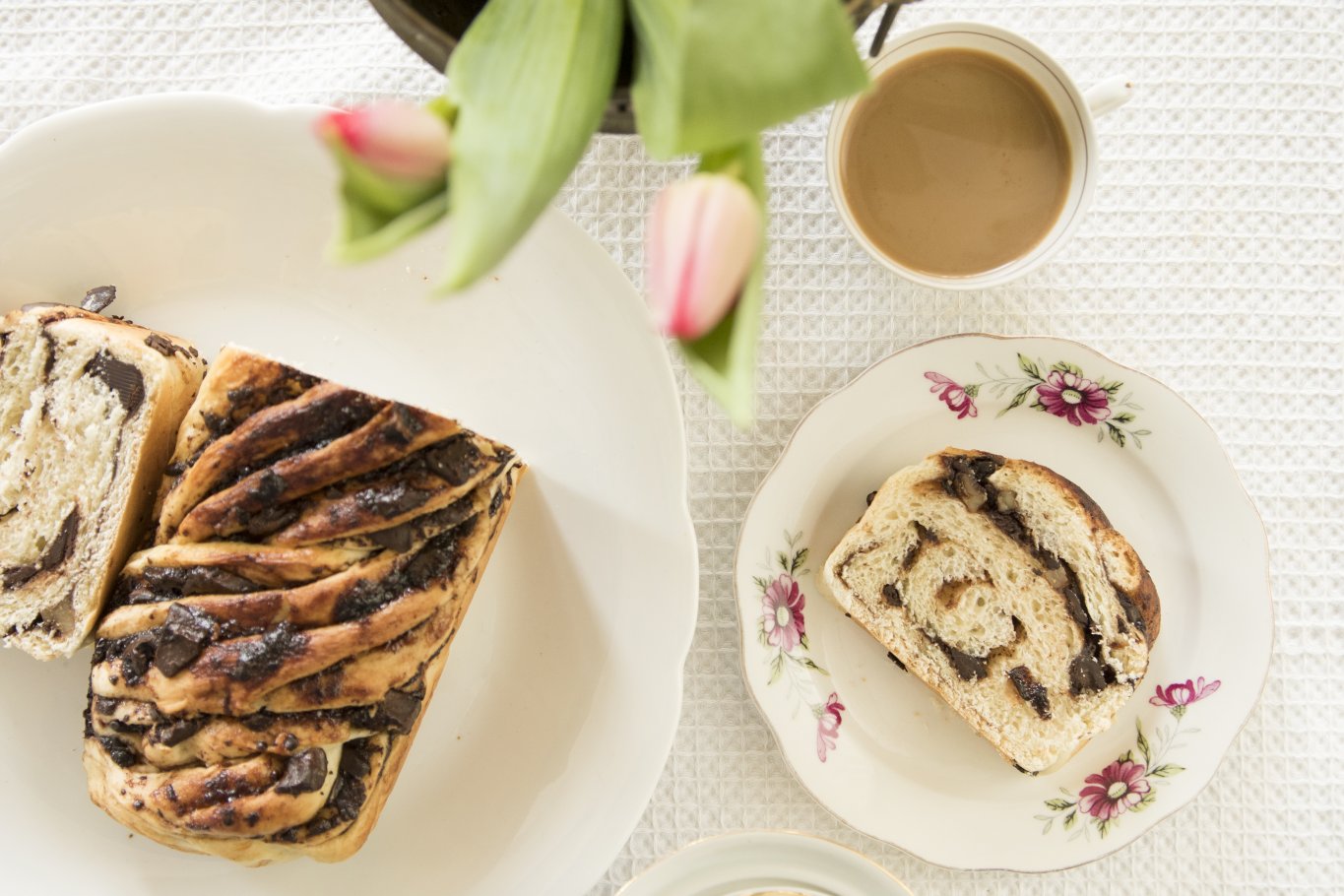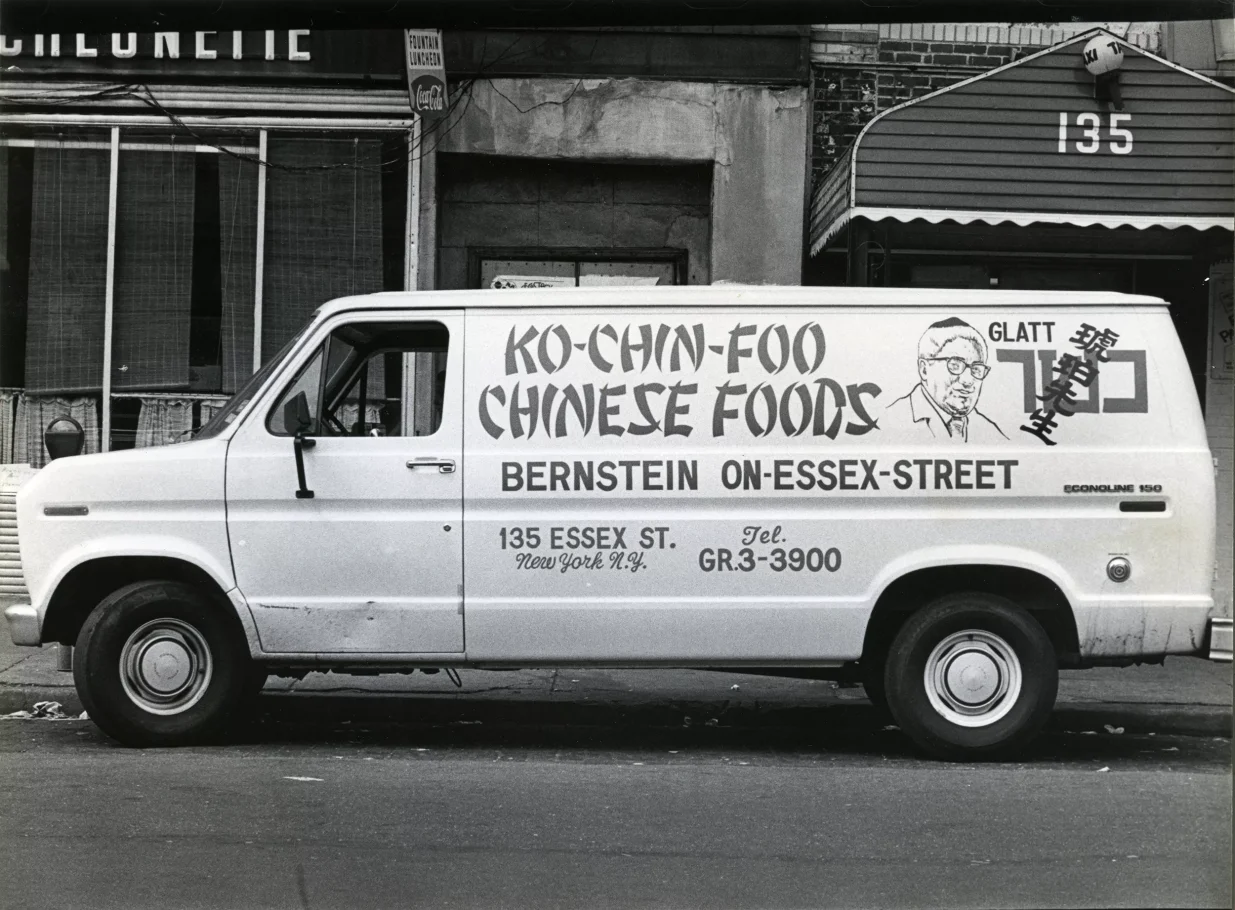 A van delivering kosher Chinese food
Manhattanm New York, 1981-83
ANU – Museum of the Jewish People, Tel Awiw
New tradition
Culinary culture among American Jews today is very diverse. For many, Ashkenazifood remains the epitome of home and tradition, yet in their daily lives they choose a rich, multi-ethnic diet. At times, trends evolve into a "new tradition", such as eating Chinese food on New Year's Day, or serving sushi at Jewish weddings. Those who keep kosher may become vegetarians or vegans, or else they can resort to kosher fast food and food trucks. The younger generation, keen on ecology and following a trend for a return to old, pre-industrial techniques of food production, demonstrates a growing interest in the traditional cuisine. Homemade pickles, schmaltz and bread are becoming more and more popular.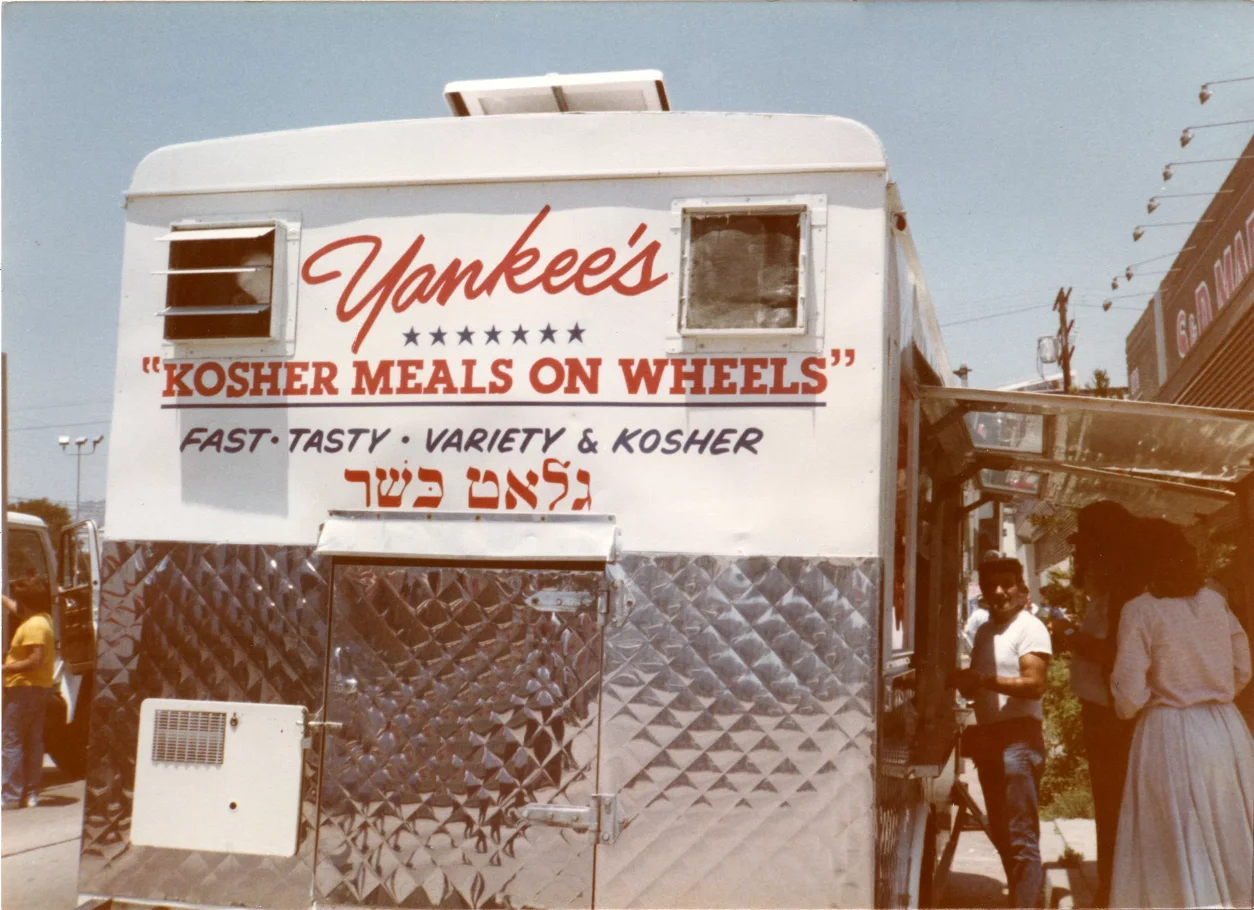 Yankee's Kosher Meals on Wheels
Los Angeles, 1984.
ANU – Museum of the Jewish People, Tel Awiw
View 3D
We are leading a transformative movement weaving sustainability into the fabric of Jewish life, in order to create a healthier, more sustainable, and more equitable world for all.

We took the classic gefilte fish and revolutionized it. We're pretty sure this was the only gefilte fish to ever be featured in Vogue. It also launched a decade of reimagining Ashkenazi cuisine.
Russ & Daughters Café
Russ & Daughters has a history of more than 100 years. The original store was established in 1914 on the New York's Lower East Side by Joel Russ, an immigrant from Strzyżów, who began by selling herring from barrels. In 2014, Joel Russ' great-grandchildren - the fourth generation of owners - opened Russ & Daughters Cafe on Orchard Street, a few streets away from the original store. In 2015, they expanded uptown, opening Russ & Daughters at the Jewish Museum, and then opened Russ & Daughters Brooklyn in 2018.

SCROLL or CLICK&HOLD
to go on