ISRAELI CUISINE
In Israel, culinary traditions of the diaspora have blended with the Middle Eastern cuisine. The culinary culture has been shaped by pioneers and kibbutzniks who rejected the diaspora cuisine—it did not fit the hot climate and was a symbol of their former stateless lives. Instead, they adopted local Middle Eastern dishes, and promoted simple food that would provide energy to work in the fields: pita, hummus, olives, cheese, shakshuka, and raw vegetables. Today these dishes are served in some Israeli hotels as the famous kibbutz breakfast. Oriental traditions were also imported to Israel by Jews from North Africa and other countries of the Near East. In the 1990s. Israeli cuisine was enriched by immigrants from the former Soviet Union.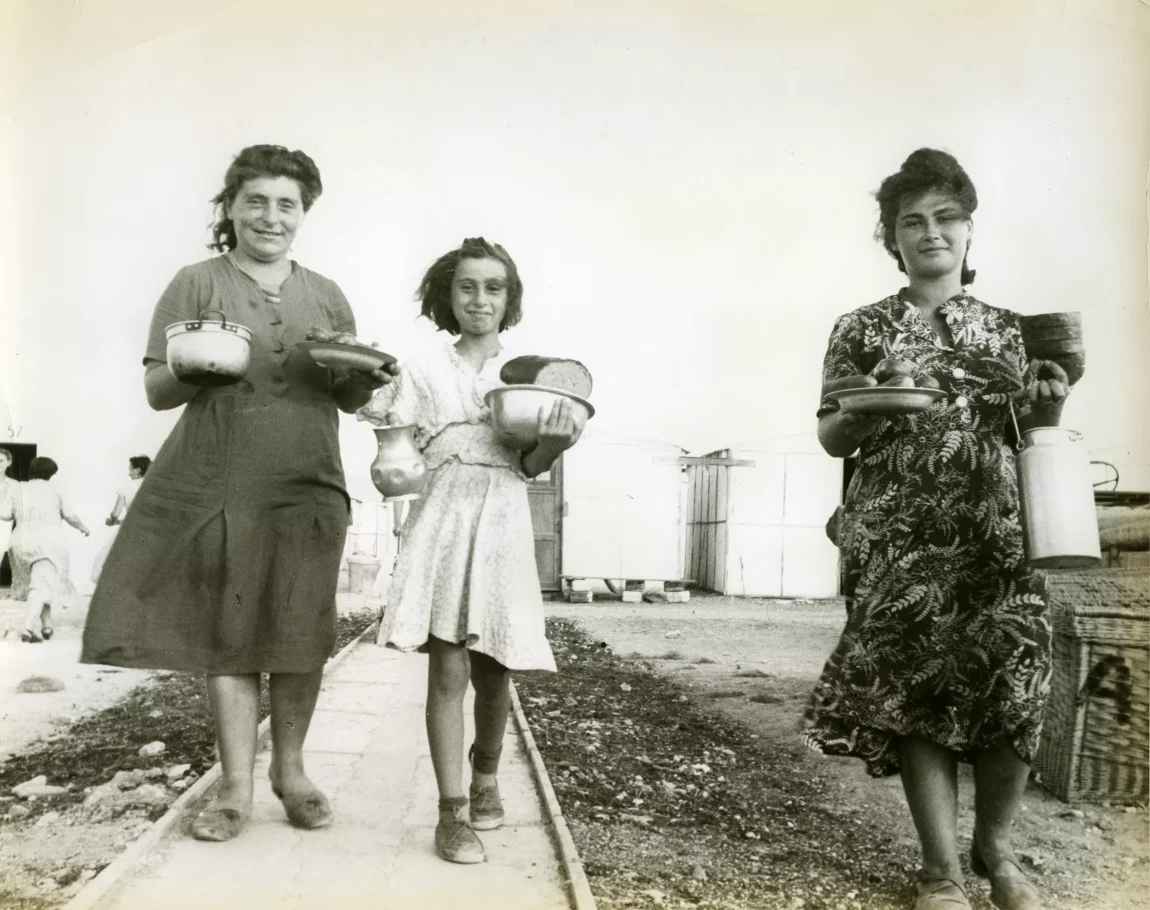 New immigrants carrying products for breakfast
Bet Olim Ahuza, Haifa, 1949
ANU – Museum of the Jewish People, Tel Awiw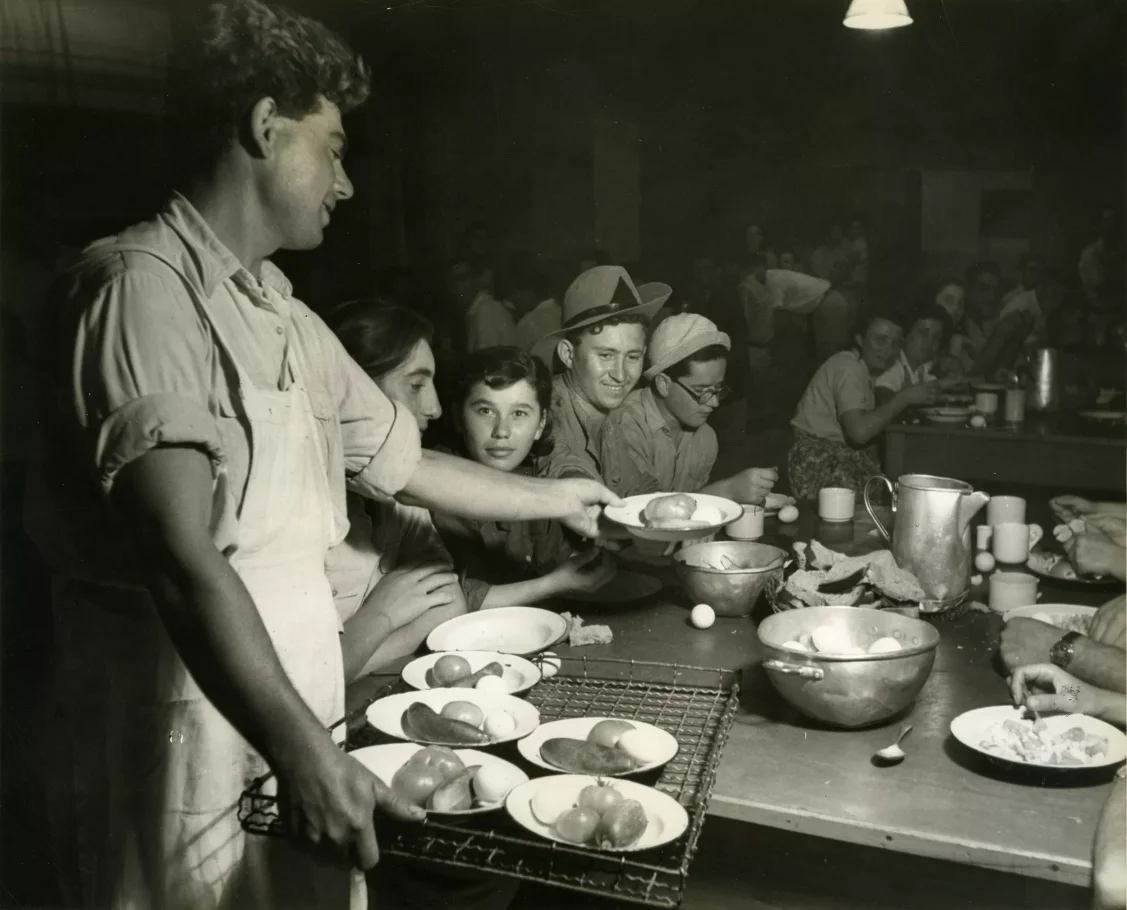 A man serving food in the communal canteen
Kibbutz Hanita, Israel,1937.
ANU – Museum of the Jewish People, Tel Awiw
New culture
The Zionist movement, Jewish mass migration to Palestine and the establishment of the State of Israel in 1948 all contributed to the rise of Israeli culture. On the ideological level, the new culture was being developed in opposition to the Ashkenazi tradition of the diaspora which was the home of many of the new State's founders. The ethos of a simple kibbutz life adapted to the local Mediterranean climate was promoted instead. Even though today's Israel is a national state, it is indeed a multicultural mix co-created by people arriving from all corners of the globe, with substantial Middle Eastern input.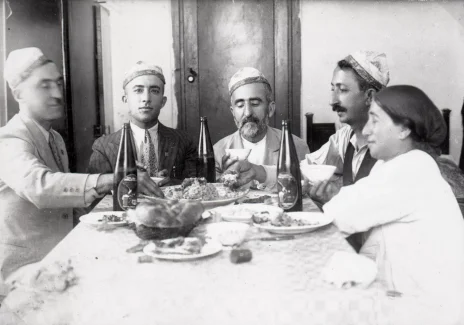 Mizrachi Jews at mealtime
On the table, there are dishes popular among Jews from Bukhara, most importantly a large tray full of rice, carrot and meat. Jerusalem, 1930s.
ANU – Museum of the Jewish People, Tel Awiw
See related objects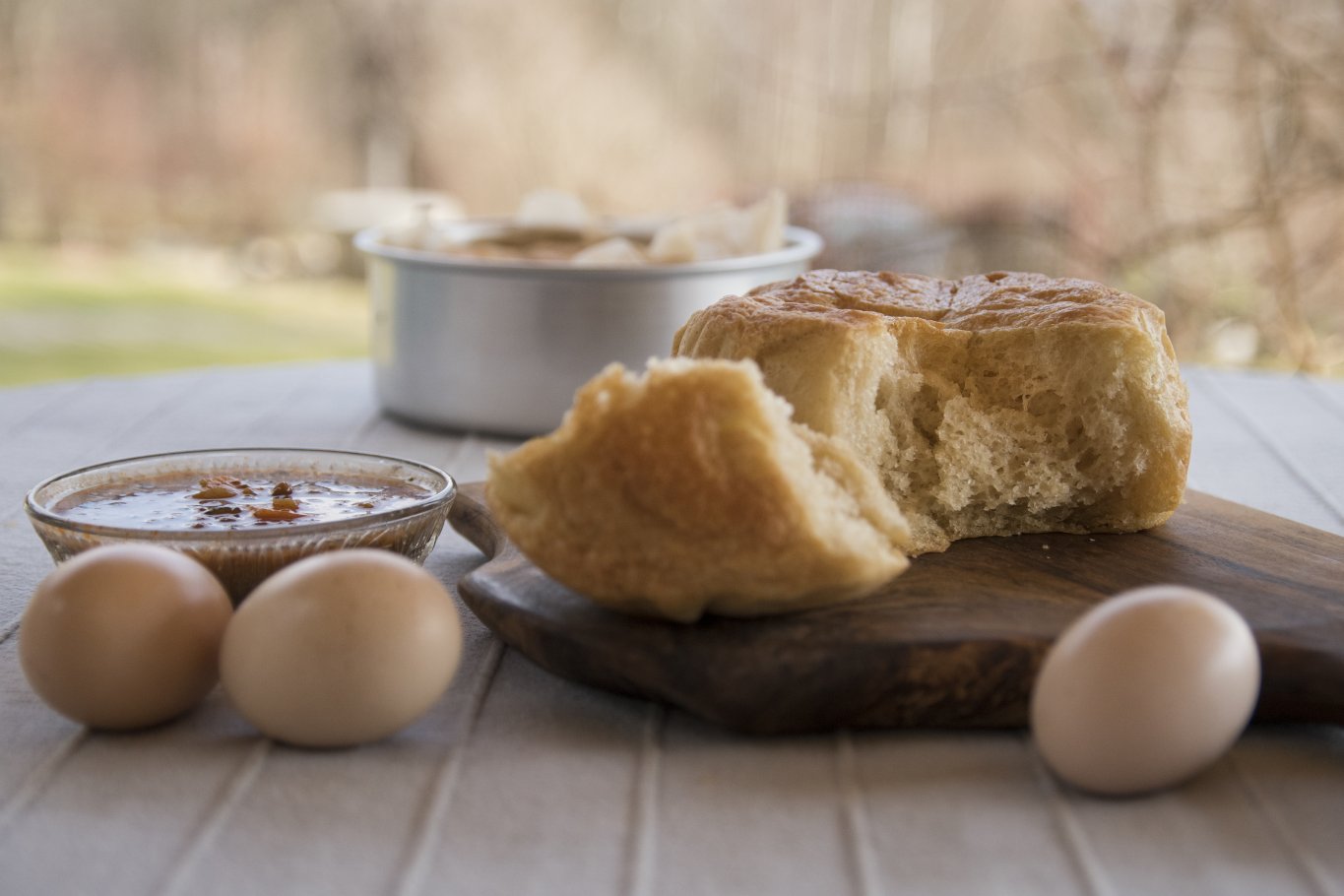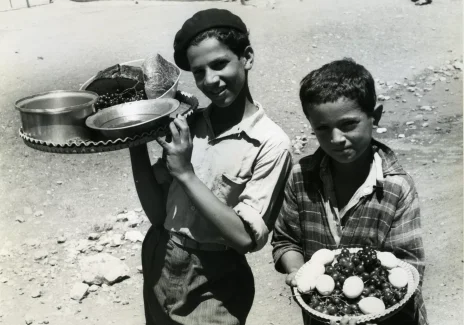 Distribution of food at a transit camp for refugees
Israel, early 1950s.
ANU – Museum of the Jewish People, Tel Awiw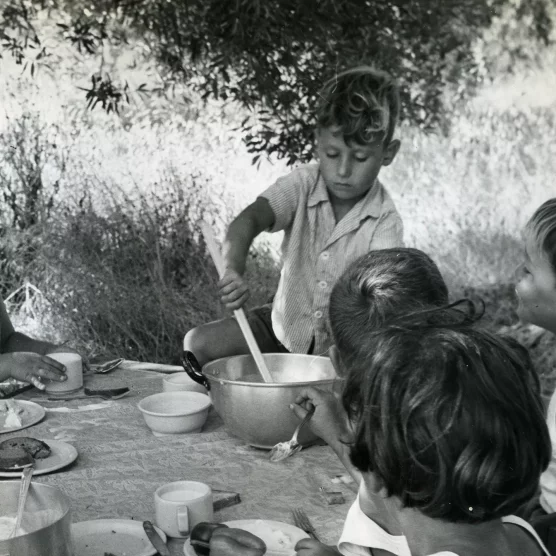 Children eating a meal in a kibbutz
Gesher Haziv, 1950s.
ANU – Museum of the Jewish People, Tel Awiw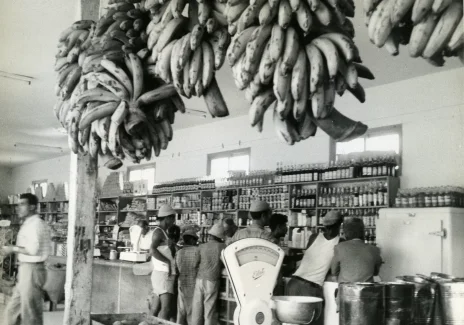 Co-op (cooperative supermarket)
Kiryat Gat, 1960s.
ANU – Museum of the Jewish People, Tel Awiw
See related objects
Culture of bars and restaurants
Contemporary culinary culture in Israel is colorful and vibrant—it is a culture of bars and restaurants in cities. The cuisine, despite being subjected to multicultural influences, remains simple: it is healthy, fresh, light, with vegetables being a vital component of meals. Even if food in Israeli restaurants and bars is not always kosher, certain elements of tradition are being preserved—no pork or blood is consumed, and during Pesach no leavened bread is served in most restaurants throughout the entire country, only matzo. Searching for the roots of Israeli cuisine in the Bible and in the Talmud has recently become a trend.

We are an "eating nation"
Gil Hovav, author of popular culinary programs and great-grandson of the creator of the modern Hebrew language Eliezer Ben Yehuda, talks about Israeli cuisine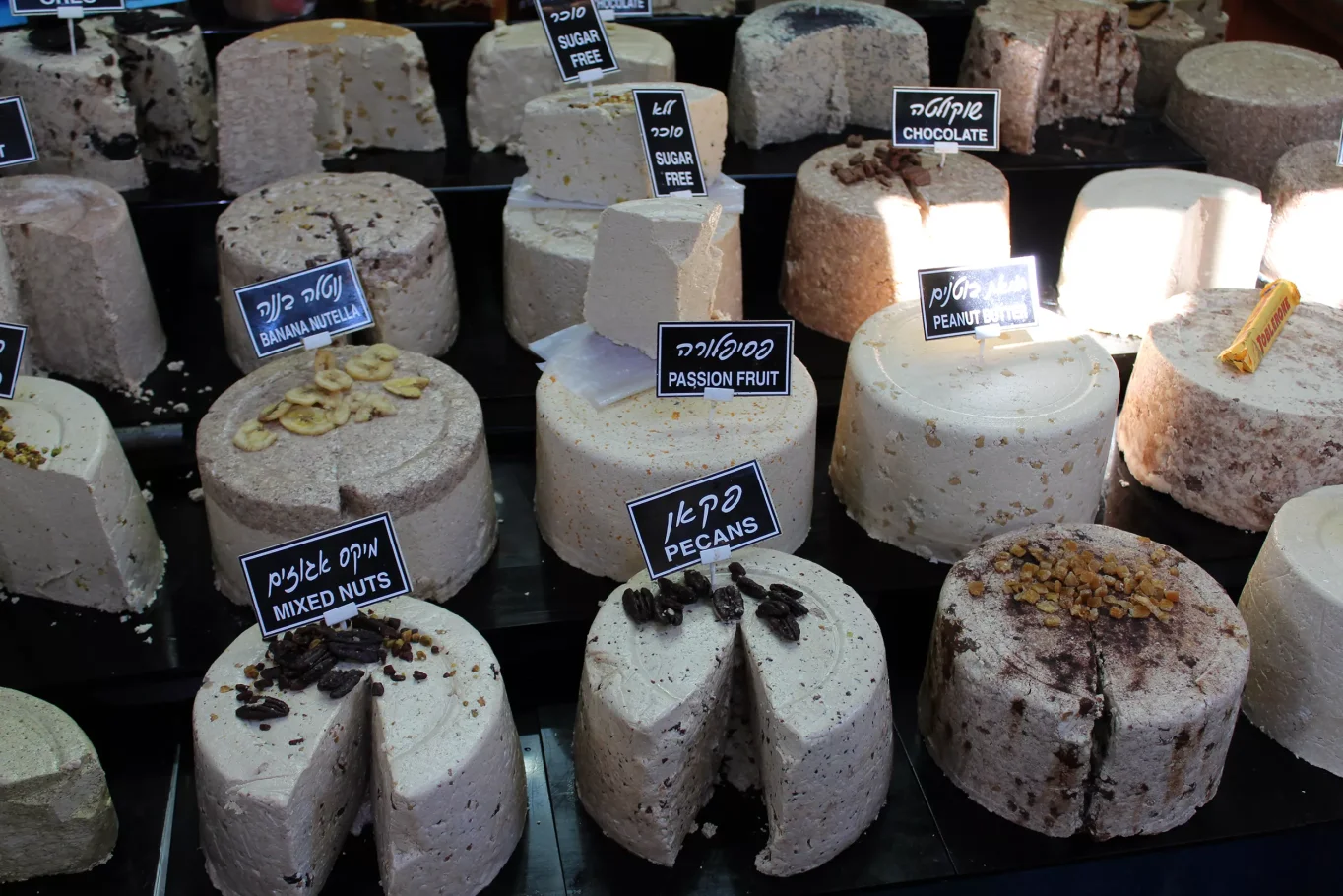 Halva stand at Machane Yehuda in Jerusalem
Photo: Katarzyna Winek, 2021.
POLIN Museum of the History of Polish Jews
Hummus
Hummus, a thick paste made of ground chickpeas, lemon juice, garlic and tahini (sesame paste), is most widely associated with Israeli cuisine. It is served with pita bread or as an ingredient of other meals. One can add various things to it, such as cumin, parsley, or sumac. The name "hummus" comes from the Arabic word for chickpeas. Widely popular all across the Middle East and North Africa, hummus is considered a national dish by both the Arabs and the Israelis.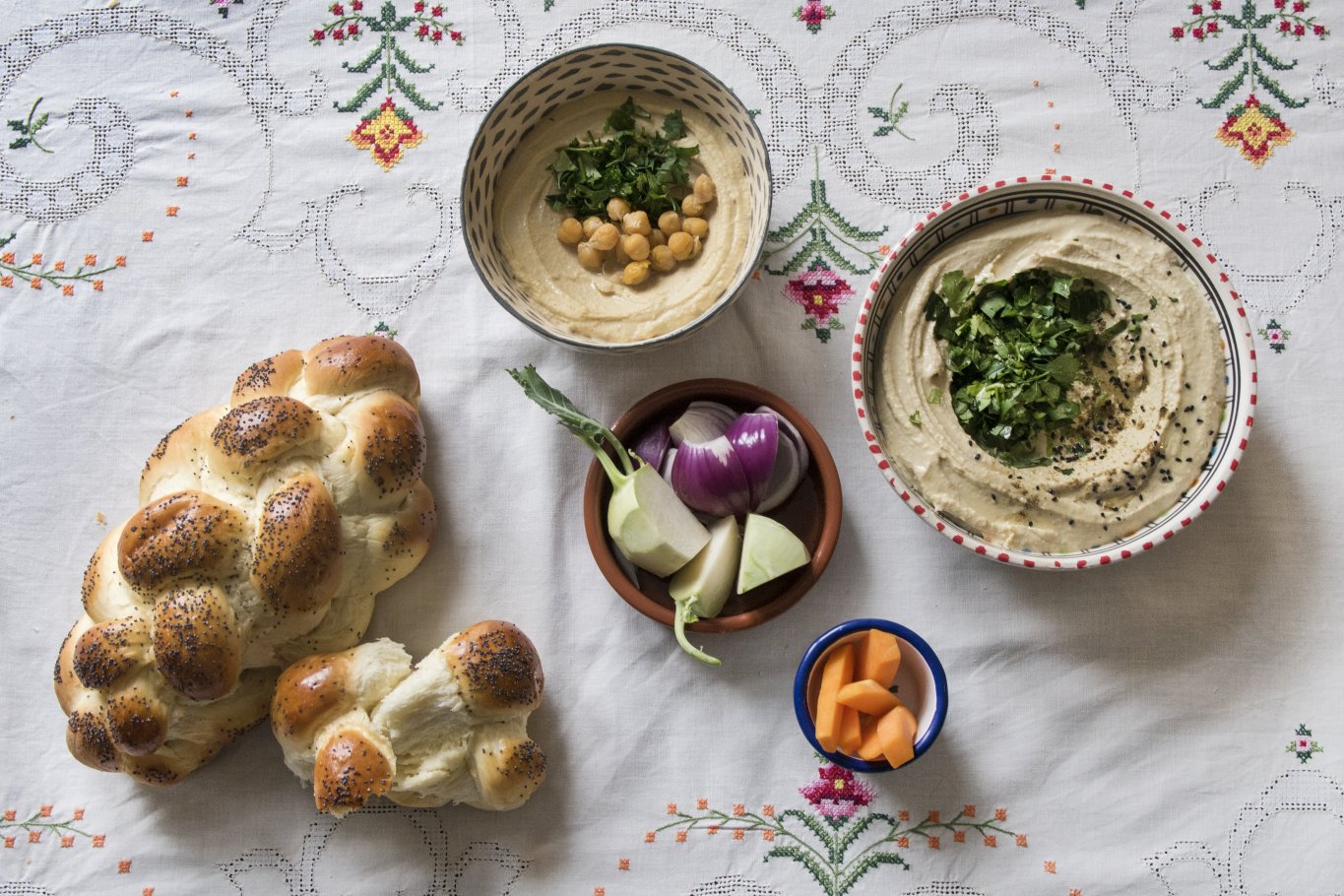 SCROLL or CLICK&HOLD
to go on